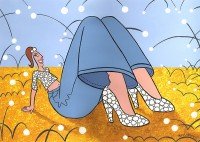 17 June 2010
A while ago I got a request of Silvano Braido to exchange a small work, something like a drawing. For some inimitable reason I'm always grabbing the large canvasses and hardly create small drawings these days. The only serious small work I owned was Wildervangsterdallen. It was a personal favorite of me, made with acrylic and ink and it was ever used as illustration for a song.
So, the choice for Silvano was quite limited, but luckily he was still willing to do the exchange.
Today I received his part in my letterbox and I was over the moon. Beside a beautiful bright tempera work, he also added a book brimmed full of other small paintings of weird animals in marvellous colors.
Visit the site of Silvano Braido, you will be surprised!