1 July 2013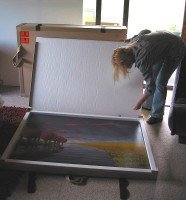 I'm living in Australia and a part of my clients are not. The worldwide shipment of an original painting is at my expense.
Worldwide shipment of a canvas giclée in a tube (rolled with no stretchers) is for my expense too. Most local framers can stretch a canvas for not too much money.
If you want a ready-to-hang (stretched) giclée, it need to be send in a box and then the transport costs are for you. You can get a rough idea of the price here: https://au.interparcel.com/
Framing of an original painting is included in the price.
I paint my canvasses all the way around the edges so they can be displayed without framing. But a proper frame does give them an extra touch. And it's an extra protection during transport.
I like to use a so-called 'floating frame', which attach to the back of the painting. Because this kind of frame only shows a very small edge, it provides a framework without being too prominent. The frame I use nowadays is a bronze coloured aluminium.