Exhibitions
2019 Aspire footsquare, Paddington, Australia (17 – 27 July)
2019 Ravenswood, Gordon, Australia (1 – 9 June)
2019 Blackstone gallery, Newcastle, Australia (18 May – 22 June)
2018 'Trades hall', Bendigo, Australia FIRST PRIZE WINNER (October)
2018 ART Art Revolution Taipei, Taiwan (18 – 21 May)
2017 Lethbridge gallery, Brisbane, Australia FINALIST (10 – 19 June)
2017 ART Art Revolution Taipei, FINALIST Taiwan (14 – 17 Apr)
2015 '100 Days of Dutch art' Ishen gallery, Auckland, New Zealand (22 Aug – 27 Nov)
2015 Ishen gallery, Auckland, New Zealand (5 July – 10 Aug)
2015 ART Art Revolution Tapei, Taiwan (7 – 11 May)
2014 Dreamscapes, Alden Biesen, Belgium (11 Oct – 12 Dec)
2012 ART Art Revolution Tapei, Taiwan
2012 X-power gallery, Taipei, Taiwan
2011 Arundel Room, West Sussex, UK
2011 Millenium Gallery, Blenheim, New Zealand *
2011 Eastern Southland Gallery, New Zealand *
2010 Lopdell House, Titirangi, Auckland, New Zealand *
2010 Percy Thompson Gallery, Stratford, New Zealand *
2010 Hawke's Bay Exhibition Centre, Hastings, New Zealand *
2010 New Zealand portrait gallery, Wellington, New Zealand, FINALIST (* part of joint tour)
2010 'Surrealism Now', Coimbra, Portugal
2010 Culture Inside Eutopia, Luxembourg
2010 McGee's gallery, Melbourne, Australie
2009 Art Melbourne, art fair, Australia
2009 McGee's gallery, Melbourne, Australia
2008 McGee's gallery, Melbourne, Australia
2008 Dreamscapes exhibition Amsterdam, The Netherlands
2007 Artspost gallery, Hamilton, New Zealand, FINALIST
2007 Koru gallery, Hong Kong
2007 Gallery O, Perth, Australia
2006 Pataka Museum, Wellington, New Zealand, FINALIST
2006 The Artists Room, Dunedin, New Zealand
2006  James Wallace Art Trust, Aukland, New Zealand, FINALIST
2006 Fisher Fine Arts, Auckland, New Zealand
2005 Kasteel de Hooge Vuursche, The Netherlands
2004 'Week van de Zee', Egmond, The Netherlands
2004 Galerie Afterdaan, Hoogeveen, The Netherlands
2003 Galerie Collect-art, Amersfoort, The Netherlands
2003 Artiade, Alkmaar, The Netherlands
2002 Galerie Kanaalweg, Heiloo, The Netherlands
Publications
2016 Dazzle book of James Taylor
Today I received another book where my Opel Kadett is mentioned. When I painted this car in 1990, it was not intended as an art project, but long after it died on the junkyard the pictures turned out to be frequently requested for books and magazines.


2013 Dreamscapes V
One by one my 75 colleguas in the book 'Dreamscapes V' are great artist and I'm proud to be in their midst. What us unites is our link to Imaginary Realism, what covers movements like magic realism, visionary realism, fantastic realism and surrealism. It's almost 300 pages full of contemporary delight. There are certainly a few names you already know. See here.
2012 Book about stripes
Linda O'Keefe asked me permission to use the picture of my black and white Opel Kadett in her book about stripes. She also wanted to know the story behind. The result was a brilliant, large book full of beautiful pictures and stories about all kinds of stripy things.
2012 Catalogue Taipei
I am not sure if being listed in a catalogue is really counting as a publication, but the book was so huge and heavy, I simply had to picture it. NYCA means New York Contemporary Art fund. It's always fun to see your own work back in a catalogue. Not mentioning that people at the Taiwanese art fair came to me, asking to … sign it! I felt like a real star.
2012 Interview in magazine
Because of my exhibition at the Arundel Room in West Sussex, the monthly art magazine 'the Art of England' printed 4 pages about me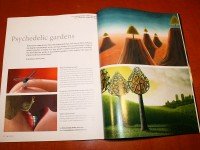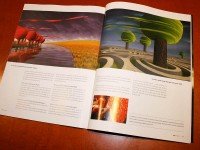 2012 Book cover
Ravi Shankar, I got one too of Angela Vogel. She has quite an impressive career. I think her poems and my paintings are excellent companions. The title of the book is 'Fort Gorgeous'.
2011 Book cover
On the front of 'Deepening Groove' of Ravi Shankar, one of America's finest younger poets.
2010 25 Years cover art magazine veterinary
2009 CD cover for 'The Cunning Linguists', a Los Angeles rap group.
I was laying under the mailbox like a dog, for weeks now. Finally I got it today!!!
The latest cd of CUNNIN'LYNGUISTS. An American hip hop group who chose MY painting for their cd cover !!!
For a 40+ white female this is probably as close as I can get to the hip hop scene. I'm blown away.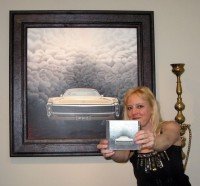 2009 Lexicon der Phantastischen kunstler
Austrian art curator Gerhard Habarta has worked 6 years to create an overview of artist with surreal, visionary, symbolic and fantasy elements in their works. This overview is published in an international encyclopedia 'Lexicon der Phantastischen Kunstler' (in German language).
I still need to get used to the fact that these days my name is classified under the V of Van Lubeck … In the Netherlands so many surnames starting with VAN exist, that Dutchmen don't include that part of the name in alphabetic orders.
Until a few years ago I always have been a L. The L of Lucky to may be part of this Lexicon.
Gerhard Habarta: [email protected]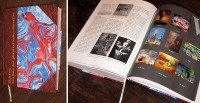 2008 Art magazine Public Art
Public Art is one of Asia's leading art magazines and is published in South Korea.
Their May issue had a special feature about surrealism. I was surprised to find my name mentioned and one of my works between a few well known artists in an article about magic realism. I don't quite understand what's being written, but I'm sure it must be positive!
They've sent me the magazine and it was more than 200 pages excellent contemporary art. Almost a book!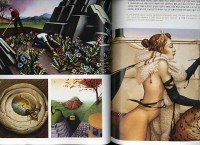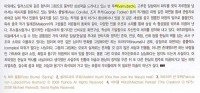 2009 Dreamscapes
My work has been featured in the 2009 edition of the Dreamscapes series book about contemporary imaginary realism.
The front cover shows the wonderful work of Lukas Kandl as he is the guest of honour.
Furthermore the book contains art from Michael Cheval, Steven Kenny, Michael Parks, Ans Markus and many other modern masters.
The book is available here.
2008 Artfind calender
Pipiri means June in Maori language and that's the month one of my paintings appears on the 2008 Artfind calendar. Another painting is featured on the desktop calendar in April (Paenga-whawha) 2008. Both calendars are available nationwide in New Zealand at post offices and Whittcouls bookstores.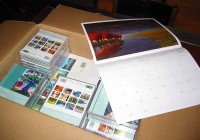 2008 iGoogle theme
I created an interactive graphic environment for the search engine user interface.
The image changes automatically a few times during the day.

2007 Dromen door Nederland
One of my drawings was recently featured in a Dutch book/CD called 'Dromen door Nederland '.
It's a wonderful A-Z book written by Henry Muldrow and each letter is accompanied by an illustration and a short song, all created by a different artists.
The theme throughout the book is the sometimes weird names of towns in the Netherlands and mine was Wildervangsterdallen, which is pretty much untranslatable. The rime is about ping pong balls …
2007 CD cover
The San Francisco progressive rock band Metaphor has used one of my images on their recently released CD-cover.
The CD is based on the best selling novel 'The Sparrow' by Mary Doria Russell.
Great concept and excellent music!
2007 Dreamscapes
This book features 45 international artists working in so called imaginary realism, me being one of them and showing 3 works. Veteran fantastic realist Patrick Woodroffe is the guest of honour and his work is on the cover. The art in this book covers pretty much everything between magic realism and surrealism.
The book can be ordered here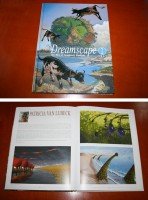 Awards
2019 Finalist, Ravenswood Australian Women's Art Prize
2018 First prize, 'The Waller Art award, Bendigo, Australia
2018 Finalist ART Art Revolution Taipei, Grand prize 2018
2017 Finalist of the 10000 small scale art award at the Lethbridge gallery in Brisbane
2017 Finalist Art Revolution Taipei, Grand prize 2017
2010 Received a grant of the Pollock-Krasner Foundation INC.
2010 Finalist (and one of the leading 4 in the peoples choice) New Zealand portrait contest
2007 Finalist NZ Painting and Printmaking Award
2006 Finalist James Wallace Art Awards
2006 Second prize, Tivoli Audio PAL Case design contest (click on the image to read a blog about it)