12 August 2008
The 'art related' stuff in this post is somewhat unusual.
In 1993 I took some lessons to learn to handle a paraglider. Soaring in the flat Netherlands was possible along the dunes, but it was more fun to do it in the higher mountains of La France or Turkey.
After a few years I got an accident (my paragliding Dad bumped on me, while I was watching him on the dunes) and I needed to wear a brace of plaster for 2 months. I wasn't an artist if I didn't get it decorated! In the famous Dutch Delft Blue pottery style. Fragile too.
After 12 years my sister in law discovered that the brace was still 'exhibited' on top of the closet in the plaster room of the hospital!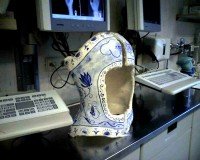 1995 The physician did his best to keep the brace intact when he was sawing it off (yes, that happened with quite an ordinary saw). The gap was meant for easier breathing and allow some room for the stomach.
---
---
---